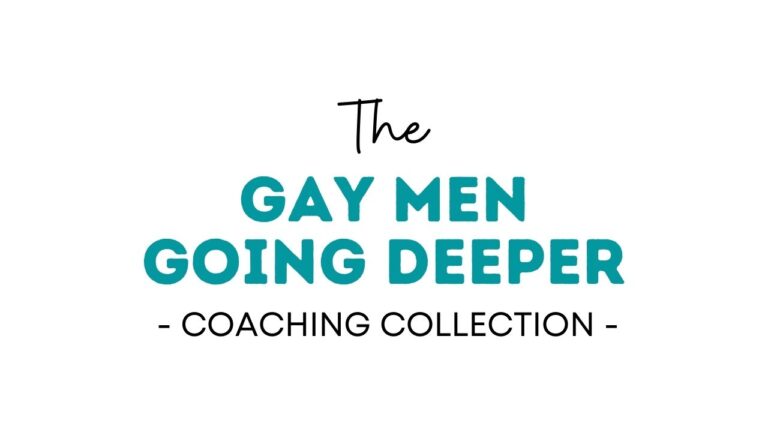 Welcome
| Your Journey Starts Here
The purpose of the Gay Men Going Deeper Coaching Collection is to provide cutting edge personal development content created by gay men for gay men. The Coaching Collection will provide you a road map to heal and empower yourself at your own pace without the heavy price tag of private coaching. 
| Let's talk about who this is for…
The Gay Men Going Deeper Coaching Collection came from our desire to create more connection, kindness and acceptance in the gay community where everyone can feel a sense of belonging, but we first need to do our own inner work. 
After seeing the need for more personal development coaching content in the Gay Men's Brotherhood (our private Facebook community with thousands of gay men interested in personal development), we knew that a collection of coaching content would be a great way for us to serve our community and those who are seeking healing and empowerment. 
We wanted to build a "home base" and structure for gay men seeking guidance as they work through their own personal development and healing journeys.
| Whether You're…
just starting your journey of personal development and you need guiding hands to help you navigate those first few wobbly steps.
looking for personal development content designed specifically for gay men.
tired of feeling lost and confused about how to heal and empower yourself.
looking to make changes in your life because you KNOW something needs to change but you just aren't sure where to start.
struggling with confidence and low self-worth.
looking for more direction on how to create a stronger sense of belonging in your life.
looking to develop your relationship skills so you can create more meaningful connections in your life.
You're in the right place. We're going to share with you how being part of the Gay Men Going Deeper Coaching Collection can take you to that next level!
| What you get when you join
The details…
Who are we?
|Meet your coaches
Hello! We're the leaders of the Gay Men's Brotherhood as well as the hosts of Gay Men Going Deeper, a podcast all about personal development, sexuality and mental health.
Collectively have over 40 years of experience in the personal development world, and in those years we've supported hundreds of gay men and change many lives along the way. We decided to create the Gay Men Going Deeper Coaching Collection because it was the best way we saw to serve our community. We dream of a gay community where everyone can feel more connected to one another in more ways than just superficial and we can all feel less loneliness and a greater sense of belonging. You can read more about our individual stories here.
We also wanted to take the time right now to say that this is an inclusive space. We welcome anyone who identifies as a gay man (this includes trans, queer, genderfluid, and non-binary peoples).
We can't wait for you to begin this journey with us. The aha moments awaiting you, and the wisdom you will gain is priceless. After all, we collectively have 40 years of wisdom to pass on to you. The three of us have been at places in our lives when things were not working for us and we were struggling to find happiness. 
Over the years we have done a lot of deep inner work to rediscover our happiness and we continue to do the work to heal and empower ourselves. We now feel inspired to share with you what has worked for us and the thousands of gay men we have supported over the years. 
Whether you're newly out or have been around the block a few times, this collection of coaching content will empower you to make the changes to find more inner peace and confidence. It's time to experience what it means to live your life on your terms, expressing your true and authentic self.
Should you choose to make this investment in yourself, we personally guarantee the Gay Men Going Deeper Coaching Collection will change your life in a positive way.
With Love,
Michael, Calan & Matt
Still not sure?
| GOT QUESTIONS?